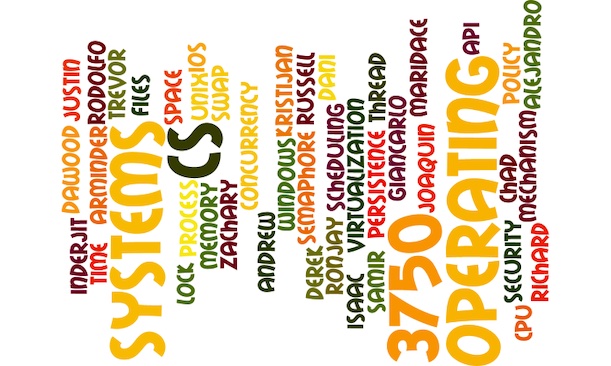 Logo courtesy Wordle
California State University Stanislaus
CS 3750: Operating Systems I
Fall 2022
12:30 - 1:45 pm, Tu Th, Naraghi 322, Dr. Megan Thomas
---
[Syllabus ] [Announcements] [Calendar/Lecture Notes] [Homeworks] [Fun News]
Welcome to CS3750, an introduction to operating systems. Topics include:
Introduction to computer operating system design and implementation issues. Historical development of operating systems; management of processes, concurrent processes, storage, and I/O systems; distributed operating systems; protection and security; ethical issues relating to security and privacy; and case studies of operating systems.
Prerequisites: CS 3100 and CS 3740.
Announcements and Upcoming Events
25 Oct 2022
News articles you might be interested in:
"The best states in the US for tech jobs", Computerworld, 20 Oct 2022.
"Developer jobs: Nearly a third of top tech roles remain empty, say recruiters: Despite hiring freezes and layoffs, companies of all sizes need software professionals - and there simply aren't enough to go around", ZDNet, 20 Oct 2022.
27 Sept 2022
In case you missed our pre-class movie, here it is: "NASA's DART Mission Hits Asteroid in First-Ever Planetary Defense Test"
5 Sept 2022
I'm going to run CS 3750 via Zoom on Tuesday, 9/6, due to the heatwave.
I will physically be in our usual classroom if you wish to join me there. Naraghi Hall's air conditioning is stronger than what I have elsewhere. I can project my Zoom screen on the overhead projector, to let students all see the same thing and... we'll improvise.
Try to do what you can to conserve energy from 4 pm to 9 / 10 pm for the next few days, please.
26 Aug 2022
Career Fair on Sept 28, 1-4. (Some preparation events before then, to help wi th resume creation, etc.)
Career Center Events, Fall 2022
23 Aug 2022
Welcome to CS 3750!
On-line Resources
Campus Resources
Unix Commands
Operating Systems
Operating Systems History
Operating Systems Experts
"The US government just launched a big push to fill cybersecurity jobs, with salaries to match", (ZDNet.com, 16 Nov 2021)
"Top 10 Data Science Jobs that will Rise to Prominence in 2022", (AnalyticsInsight.net, 18 Nov 2021)
Podcast: "Where t he Internet Lives", 2020-2021. A Google-centric view into the insides of data centers, and interviews with assorted people who work at them. May give you insights into possible future careers.
Podcast: "Episode 434: Steven Skiena on Preparing for the Data Structures and Algorithm Job Interview" of the Software Engineering Radio podcast. (10 Nov 2020)
"The Highest Paying IT Jobs For 2021: Robert Half", 19 Oct 2020, CRN.com
"10 surprising hot spots for software developer jobs in the US" by TechRepublic (27 Aug 2020)
"8 tips to land a startup job straight out of college: an exclusive interview with Greylock" by Thinknum.com (8 Oct 2020)
"Students Need to Know What Success in Computing Looks Like, Starting from Realistic Expectations" , Blogs@ACM, 12 Sept 2020.
"The top tech jobs in 2020 and the skills you must have to secure them", Ladders, 16 Sept 2020.
"How to succeed in your first 90 days of a new job when you start remote", The Enterprisers Project, 10 Sept 2020.
Curious about what an interview for a software engineering job might involve? Listen to: "Episode 412: Sam Gavis-Hughson on Technical Interviews", 10 June 2020, IEEE Software Engineering Radio