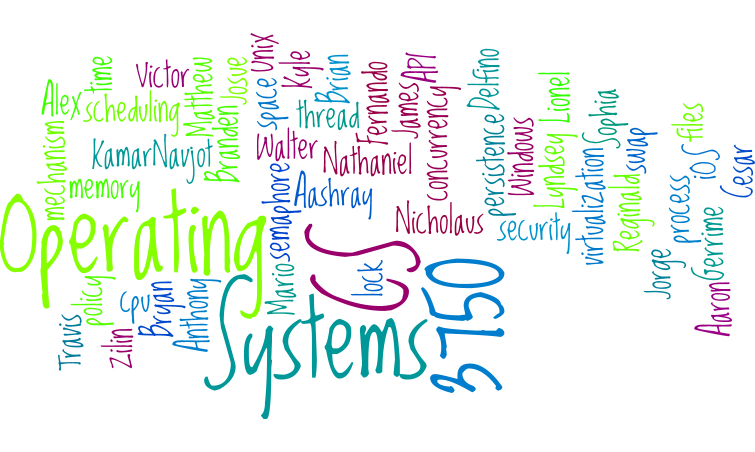 Logo courtesy Wordle
California State University Stanislaus
CS 3750: Operating Systems I
Fall 2021
---
[Syllabus ] [Announcements] [Calendar/Lecture Notes] [Homeworks] [Fun News]
Welcome to CS3750, an introduction to operating systems. Topics include:
Introduction to computer operating system design and implementation issues. Historical development of operating systems; management of processes, concurrent processes, storage, and I/O systems; distributed operating systems; protection and security; ethical issues relating to security and privacy; and case studies of operating systems.
Prerequisites: CS 3100 and CS 3740.
Announcements and Upcoming Events
On-line Resources
Online Fall 2021 information

Canvas Learning Management System, where some class activities, quizzes, etc, will be done.
Recordings of Zoom class meetings available on Canvas class site, via Panopto
Document scanning apps for smartphones that past students have recommended: CamScanner, Genius Scan, Adobe Scan. (Note that the professor doesn't care if the apps leave watermarks on your scans, as long as the documents are readable.)
"Tips for Succeeding in This and Other Online Courses" courtesy of the CS department at U. of Nebraska-Lincoln

Campus Resources
Unix Commands
Operating Systems
Operating Systems History
Operating Systems Experts
Of possible interest: "Episode 434: Steven Skiena on Preparing for the Data Structures and Algorithm Job Interview" of the Software Engineering Radio podcast. (10 Nov 2020)
"The Highest Paying IT Jobs For 2021: Robert Half", 19 Oct 2020, CRN.com
"10 surprising hot spots for software developer jobs in the US" by TechRepublic (27 Aug 2020)
"8 tips to land a startup job straight out of college: an exclusive interview with Greylock" by Thinknum.com (8 Oct 2020)
"Students Need to Know What Success in Computing Looks Like, Starting from Realistic Expectations" , Blogs@ACM, 12 Sept 2020.
"The top tech jobs in 2020 and the skills you must have to secure them", Ladders, 16 Sept 2020.
"How to succeed in your first 90 days of a new job when you start remote", The Enterprisers Project, 10 Sept 2020.
(Click only if you have time to read; this site only gives 3 free articles.)
"These are the top 20 computer science jobs hiring right now" by theladders.com, 21 July 2020, (includes a list of computer science jobs and estimated salaries)
"Hiring managers should look outside traditional tech hubs to fill cybersecurity jobs" by TechRepublic, 23 July 2020.
Curious about what an interview for a software engineering job might involve? Listen to: "Episode 412: Sam Gavis-Hughson on Technical Interviews", 10 June 2020, IEEE Software Engineering Radio
"Cybersecurity Needs YOU" by CSU News, Oct 2019
"Tech Workers Are Finding Jobs Outside of Traditional Tech", IEEE Job Site, 19 July 2019